Back in 2021, I became aware of Dewayne "Lee" Johnson's lawsuit against Monsanto through reading "The Monsanto Papers: Deadly Secrets, Corporate Corruption, and One Man's Search for Justice" by Carey Gillam. Lee is a former groundskeeper who was diagnosed with Non-Hodgkins Lymphoma. He sued Monsanto (now Bayer) on the basis that the company's herbicide product Roundup caused his cancer. In her book, Gillam highlights corporate wrongdoing and the importance that they be held accountable. So much of this story motivates PJC to continue providing all-natural turf products that are safe for people, pets, and the environment. To continue raising awareness,  a new film highlights negative effects of pesticides: "Into the Weeds" streams October 3rd, 2023.
Into The Weeds Documentary Release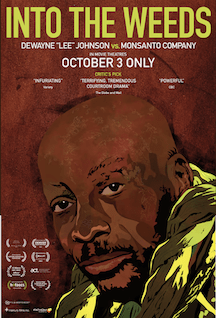 Over the years, this lawsuit has garnered more interest and concern due to its systemic impact. "Into The Weeds" explains how Monsanto failed to include a cancer warning on its products. "In 2015, the International Agency for Research on Cancer (IARC), a branch of the World Health Organization, classified glyphosate – the active ingredient in Roundup – as 'probably carcinogenic to humans'. A year later, Lee Johnson filed a lawsuit claiming that Ranger Pro, a commercial-grade variant of Roundup, was a substantial contributing factor in causing his Non-Hodgkin's lymphoma" (intotheweedsimpact.com). While Johnson spearheaded the movement, tens of thousands of people have since joined forces. This film expands beyond Lee's story, to cover the negative effects of glyphosate on food, health, soil, and the environment. The corruption uncovered is shocking, and Monsanto's negative impact extends to all.
Please join us to raise awareness around this important topic. Mark your calendar for October 3rd, 2023! Into The Weeds will be screening for one day only in theaters across the US. Want to learn more? Into the Weeds Film Highlights Negative Effects of Pesticides: Watch Trailer,  Get Tickets, Read More.