School and Municipal Turf Care Simplified.
Across the nation, communities are calling for the reduction of pesticide use in school and municipal turf care. So, we work with your team tailor an All-Natural Organic Turf Care program that is easy to follow and effective. From transition trial programs to 1-4+ year programs...you've got options! With our practical approach and proven products, turf care can be done organically and successfully.
for school and municipal turf care
Included in Soil Testing Services:
Soil sampling supplies and instructions sent right to you.

Soil test for: pH, buffer pH, Organic Matter, Cation Exchange Capacity, P/K/Mg and % Base Saturation.
Report with product recommendations based on what your soil needs.
Site specific Master Product Application Chart. Outlines product, # of bags, # of applications and when to apply. Updates are made with new soil tests (saving you time and making product decisions easy!).
Site Visit and Assessment
Operations Guide
Staff Training
Email and Phone Support
PJC's Support Services help you transition to organic lawns and athletic fields seamlessly. Options include different tiers of support based on your timeline, goals, and budget. PJC's Support Services Framework below identifies customer and company responsibilities. Follow the program and optimize efficiency.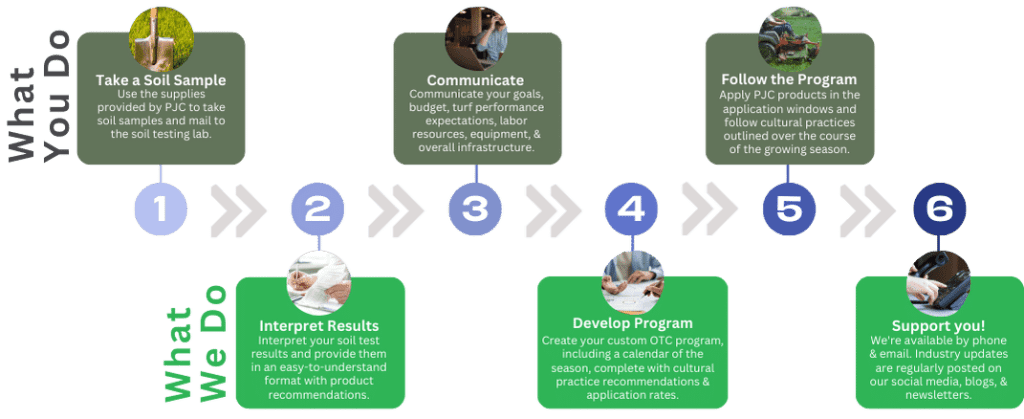 Bundle options for big program savings! Secure longterm support from PJC to establish a successful Organic Turf Care Program.
Our Organic Turf Care Transition Trial Program provides you the budget, application calendar, and support needed to transition two fields of your choice.
Start or upgrade your OTC program today!
Our Other Products Include: Kelp, Mycorrhizae, Fish Hydrolysate, Sulfur, Molasses, and more…don't see what you're looking for? Contact us!