(10 Minute Read) The end of the season is here and we have 10 tips for taking care of turf in Winter. Close out the season well, make good use of the off-season, and set yourself up for success in the Spring.
1. Follow PJC's Organic Turf Care Program
 We have new program offerings from 20 years of tried and true practical experience. For year-round success, take a look at our turf tips according to season: Spring, Summer, Fall. 
2. Keep it Clean
In the Fall, we recommend mulching your leaves as you make your way to your last mow of the season. During winter, do your best to keep large pockets of leaves and debris off the lawn to avoid dead spots and fungal disease. Although, DON'T aggressively rake – protect the crown of the turf grass and opt for a leaf blower when possible.
3. Maintain Your Turf Blankets
We love turf blankets at PJC and require them for our High-Performance fields. Be sure to periodically check your blankets to ensure they are secure to the field. Especially before windy day and storm events, you don't want to show up to work having to suddenly address a turf blanket flailing in the wind.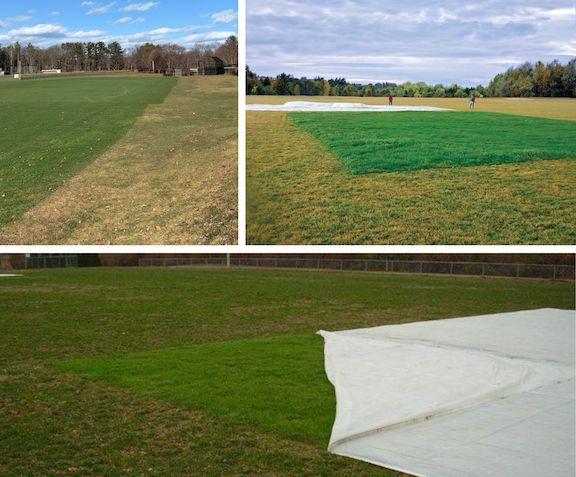 4. Review Your Program
Double check your pricing, clientele, and program offerings – or contact us to help you with it. We offer many support services for landscapers to keep your Organic Turf Care business growing and highly profitable.
5. Dormant Seeding
If you have any leftover seed – don't feed the mice with it! Take advantage of winter dormancy and slice seed early December to get any extra seed into the ground. Temperatures should be low enough to avoid early germination, and you will have newly growing grass by early April.
6. Avoid Excessive Lawn Traffic
Turf is most susceptible to crown damage early in the morning, when frost has formed on the crown of the plant. On this account, avoid unnecessary foot traffic on the field early in the day. Furthermore, plan any on field maintenance for the warmest part of the day.
7. Get Organized
Winter is the ideal time to declutter the office and clean up your shop. Organizing your business is foundational to landscaping success, so make next season your most efficient one yet!
 8. Equipment Maintenance
Don't wait until spring to get your equipment ready for the season. Get fuel stabilizers into your gas tanks, replace fuel filters, sharpen mower blades, add string trimmer line and take inventory of your parts stock.
9. Avoid Salting
Depending on your climate, you may get a lot of snow, a lot of rain or some combination. Be mindful of salting. Salting is not good for your turf, your pets, or your waterways. Act early with shoveling or snow blowing to keep your walkways, driveways, and waterways clean and clear.
10. Get Some Rest and Relaxation
One of the main things we've learned from our environment is that winter dormancy is essential for humans as well. Enjoy the winter – go ski, enjoy the snow or cozy up next to a warm fire. As you check off these winter organic turf tips, be sure to also get recharged for next season!
Follow these ten tips for taking care of turf in Winter. You want to set your turf up for success with year round care.